A Helpful Guide
Hiring a designer can be a new and confusing experience, and it's often very different from one designer to the next.  What exactly are you getting for your hard earned cash?  What do you need to provide so I can do my job?  My hope is that this outline helps to make the design process clear and easy to understand.  Throughout this process I focus on:
Quick and open communication
Answering questions and explaining processes clearly and with care
Listening!
Two things result: the client gets a great product on time, and I'm able to put more of my energy into creating strong designs, efficiently. That's a win-win situation in my book.
Initial Meetings:
Welcome!  I want to hear about this project you have in mind!  Talk to me about what kind of graphic work you would like me to do for you.  Whether you want to convey a message, illustrate a process, decorate something or beyond, I probably have a solution for you.  Feel free to let me know any info you think will help support the artwork.  I'll answer any project-specific questions I can.  Based on your needs and completion date, I'll do my best to quickly put together an estimate for you.
Provided you are satisfied with the estimate, I'm happy to offer in-depth consultation as we move further into the
project.  I'll supply a formal contract for you to sign before we get started, which confirms specifics of our agreement and helps assure that both parties understand the expectations of the job.  A retainer payment is due up front at this time.
A big help for me to is to receive any additional supporting material from you, such as:
Examples of an artwork style you really like!
Tell me about the color palette you're looking for (anything from a specific Pantone color to "I saw this cool color on a passing truck…"
Links to websites you think are great (for applicable projects)
Images you want integrated into the art
Fonts that you like
Don't have these things, or not sure if you even want to use them?  That's fine! Sometimes the pieces are all there, sometimes not.  Every project is different.  We'll talk about what you're after and figure it out.
Concept Development:
I'll apply the information you provided and get into the "think time" of development.  This involves a lot of sketching, researching, head scratching, and design experimentation on my part.  Ultimately I end up with 3 to 4 color drafts of the artwork which will be sent to your email as PDF files, for you to review.  This process usually takes 1 week*.
1st round revision: After reviewing these drafts, the goal is for you to narrow the choices down to 1 or 2 of the best drafts for further development into final artwork.  Pick them out and we'll talk about the aspects that may need tweaked, if applicable.
Design:
The aforementioned 1 or 2 drafts will be developed further into higher quality drafts with any revisions implemented.  This could be as simple as a font change or as involved as modifying major art components.
2nd round revision: Updated drafts will be sent and reviewed again, then narrowed down to the final single choice that you feel is fit for production.  Almost there!
3rd round revision: Small revisions to the final choice are made, and if the artwork is deemed satisfactory, it receives client approval to be put into production.  If necessary, the second of three total payments will be due at this point along with signed approval of the final art.  This phase usually takes 1 to 2 weeks*.
below is an excellent example of the creation process.  This was  a logo developed for Creative Residential Designs.  You can clearly see how the concepts were narrowed down to a single choice, which was further honed down to the final color and black & white designs!  (click to biggie-size it).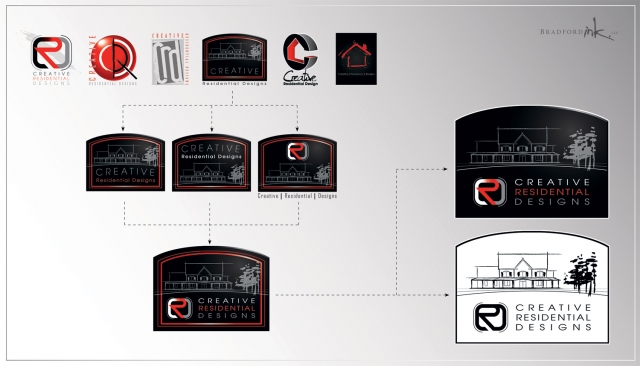 Implementation:
Your artwork is checked over one last time, set up for press if necessary, and sent to the vendor, technician, artist, etc. in charge of implementing your product.  Some technical assistance can be offered if needed, as well as shipping arrangements.
Delivery:
The final art files are bundled and sent to client on disk or via file transfer.  These files may include Adobe AI, EPS, PSD, GIF and high resolution JPEG as well as high resolution PDF.  They're all yours, do with them what you wish!  The final payment is due upon delivery.
That's the gist of it. I hope you feel like you're ready to jump in! As always I'm happy to answer any questions you may have.
– Scott